WELCOME to Terps After Dark Fall 2021!
We are excited to kick off our 7th year of Terps Afer Dark this fall, and we hope that you will join us and enjoy some of the amazing programs we have planned! Never heard of Terps After Dark? Get answers to frequently asked questions.
Week 6 Events: Sept. 30- Oct. 2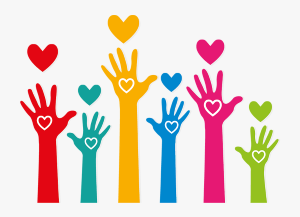 Ongoing
Wellness Workshops
Location: Virtual (Zoom)
The Counseling Center is hosting drop-in virtual workshops on a wide range of topics (16 total!) to support your mental health and wellbeing. 
Advanced registration is not required. The workshops will close to new participants 15 minutes after the start of the workshop.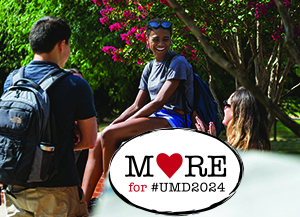 Ongoing
More fun. More friends. More community.
Welcome back, Sophomores! We know it's been a long road getting here, and we're all so ready to be together again.
Look for the More for #UMD2024 symbol at events and programs this fall to find special spaces to be among fellow sophomores, like you! Find yourself here! You made it. For a full schedule of fall events, go to TerpLink.umd.edu OR go.umd.edu/UMD2024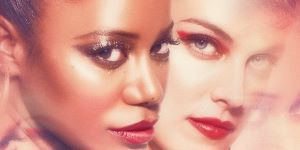 Wednesday & Thursday, September 29 & 30  (8-10p)
SEE Movie: Zola
Location: Hoff Theater (Wed.) & Nyumburu Amphitheater (Thurs.)
Zola, a Detroit waitress, is seduced into a weekend of stripping in Florida for some quick cash -- but the trip becomes a sleepless 48-hour odyssey involving a nefarious friend, her pimp and her idiot boyfriend.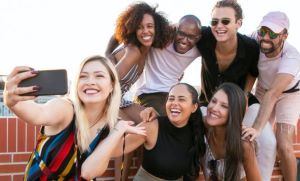 Thursday, September 30  (6-10p)
Studio A: Picture Frames and Photo Booth!
Location: Studio A
Visit Studio A to create your own DIY picture frame and then take photos at one of our custom photo booth backdrops! This event is first come first serve with 30 participants per hour. Learn more here!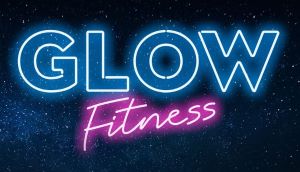 Thursday, September 30  (Varies)
Recwell: Glow with RecWell Group Fitness! 
Location: ERC, Regents, and Ritchie studios
Come join your favorite Thursday fitness classes - glow edition! We will have glow sticks and more, so wear your favorite neon colors and come join us for glow fitness in the dark! Is pre-registration required? Yes, class registration can be found here starting at 8am on Wednesday, September 29, 2021.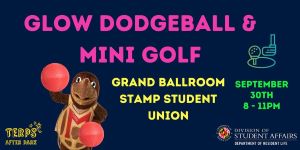 Thursday, September 30  (8-11p)
DRL: Glow Dodgeball & Mini Golf
Location: Grand Ballroom, Stamp
Dodge, duck, dip, dive, and dodge your way to Maryland Dodgeball superiority! Learn more here!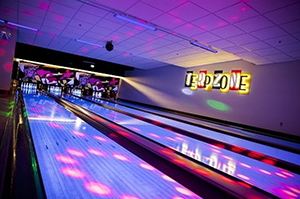 Friday & Saturday, October 1 & 2  (8p-1a)
TerpZone: Cosmic Bowling
Location: TerpZone, Stamp
Come and enjoy our cosmic bowling event  from 8 PM - 1 AM. Colored lights, pins, spinning disco balls, and black lights will be sure to have everyone enjoying the fun. Bowl on a strike with the colored pin in front and win a free game! RSVP here!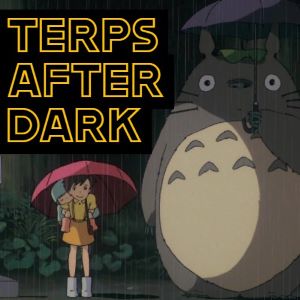 Saturday, October 2 (630-10p)
University Libraries: Miyazaki Film Fest
Location: McKeldin Library
Join the University Libraries for a Hayo Miyazaki film fest! Each night will feature a different Miyazaki film and button making. Learn more here!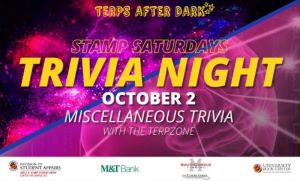 Saturday, October 2  (9-1030p)
STAMP: Stamp Saturdays Trivia Night (hosted by GSG)
Location: TerpZone
Come hang out on Saturday nights for some trivia and chances to win prizes! This Saturday, join us for a fun night of Miscellaneous (Sports, general knowledge etc.) trivia. RSVP Here to stay up to date on information and don't forget to bring some friends. You'll never know if it's a team week or individual. 
Thank you to our UMD Parents and Families for their support of Terps After Dark through the Terp Family Fund.